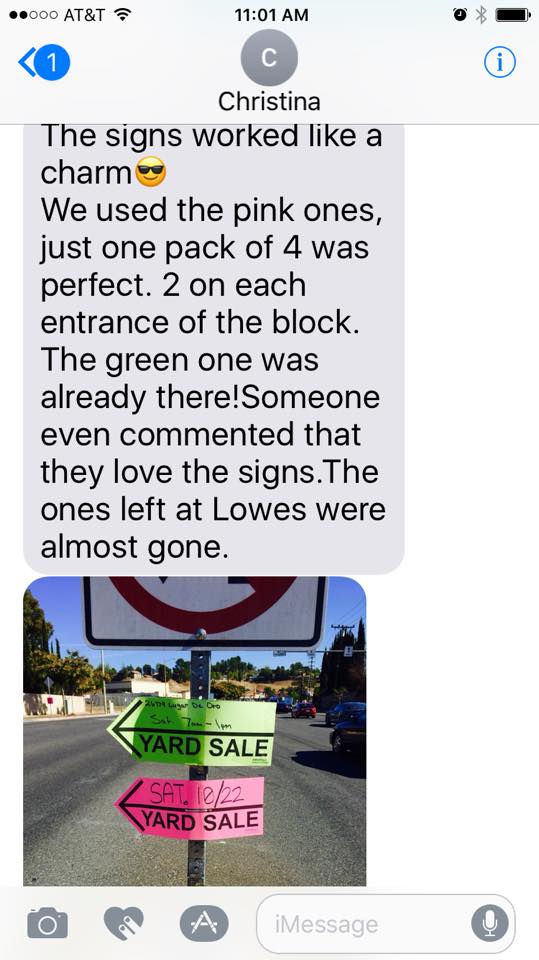 ADDITIONAL ENDORSEMENTS BELOW
" These were great for our yard sale! Didn't even need to put an address, people just followed the green signs!!" ~ Jennie King-Granados, Tracy, CA 
"This product is absolutely killing it! We put them up front by the coke machine and they flew out the door" ~ Dino Q. ACE Hardware Store Manager, Orange CA
"We used your signs 2 years in a row for our cul-de-sac garage sales. Love them... " ~ Kristine Cluck, Chula Vista, CA
 "I bought those signs when we had our yard sale. Liked them so much better and so much cheaper for a one time use." ~ Randi Lyn, San Bernardino, CA
"I've seen these being used all over my neighborhood" ~ Ashley Diamond, Garland, TX
"Finally someone made good decent visible signs. GOOD JOB! I'll definitely buy." ~ Maria Van Horn, Palmdale, CA
"We used these for our last yard sale…These are great!" ~ Kristy Sanchez, Moses Lake, WA
"These are awesome J I will be buying some this week!" and "This was a great idea, no more following signs on the ground" ~ Jessica Marie, Moses Lake, WA
 "I bought these and they were great and affordable. They got people to my yard sale easily…even on a Wednesday. Thank you for your idea & the brighter the color the better." ~ Richelle Resendez, Owatonna, MN
"I just was in that area yesterday & seen these. Thought to myself, that's nice wish they had those a long time ago. Thanks J" ~ Cheryl McGill, Enid, TX
"When I have my sale I will be buying YOUR signs." ~ Julie Hogan, Blaine, MN.
"I'm proud to have purchased a family product. Didn't even know what I was purchasing…I'm proud to display this weekend!" ~ Tasha Torner, Janesville, WI
"Love it! Clever, affordable and convenient!!" ~  Harper Squared Garden Ridge TX
"Definitely will be purchasing these instead of making homemade signs! That is awesome!  ~ Laura Roberts, Kerman, CA.
"We bought these! And used them!!!! They were great!! Until someone stole them :(" ~ Ashley Schleper, Princeton, MN
 "I am way too excited about this!! Great idea!!" ~ Annie Anaheim, Orange County, CA
"I have saw these signs and they are very nice but the best part is the price works well for even the smallest income..its actually cheaper than construction paper markers and a ruler" ~ Helen Cowell-Crary, Beloit, WI
"I saw these at Walmart last night…too cool!! ~ Alicia Ledbetter Vaughn, San Angelo, TX
"We used them and they were great!" ~ Karen Vetters-Widowski, Skiatook, OK
"Awesome, thank you. I am having a yard sale this weekend!  I'm very excited…I hate making the signs :)" West Hills, CA
"Love those arrows and know it will make our yard sale a success and easy to find!" ~ Alicia Boyd, Sacramento, CA
"Looked for these at Walmart a few weeks ago and did not see them. Had to go to Lowe's instead." ~ Lydia Landen, Pasadena, TX
"Love it. Going tomorrow to get some.  I am having a sale next week and this will take hours off my to do list. Thank you Rhonda lynn." ~ Dina Mills-Hourlland, Hayden, ID
"These are awesome and so easy to use!!  Loved using them for my garage sale this weekend!!!" ~ Jennifer Rostek Lord, Santa Clarita, CA
"Love these signs because I hate making my own signs for my yard sales.  These signs make it so EASY!!!!" ~ Pamela Venema, Valencia, CA
"This is a very easy and efficient way to promote your sale and at a very economical price. Definitely will be purchasing these instead of making homemade signs!" ~ Fresno, CA
 "I love them. They're so easy to use, and I was even able to take some down to reuse" ~ Joey Johnson, Stillwater, OK
"ARROWSigns is an innovative product that easily allows you to direct people to your event" ~ Michael Holt, Valencia, CA
"They say necessity is the mother of invention and that's certainly the case for ARROWSigns founder Rhonda Pieracci." ~ The City Wire, AK
"A great product will always rise to the top" ~ Robert Dyer, Director of Merchandising, Pacific Division, Wal-Mart Stores
"I love these signs...very handy!" ~ Maureen Palm, Boise, ID