From Marketing to Manufacturing
In 2002 we set out to help companies grow their business and created our successful administrative and marketing firm, Hi Octane Corporation.  After Hi Octane was established, in 2010 we launched a concept company, LYNNVISION, INC.
LYNNVISION, INC. was created with the sole purpose of manufacturing and distributing original and practical products for resale to retailers.
Now There's An Idea
It was Friday evening when a friend and I finished setting up for a yard sale when we realized we still needed to post signs directing people to the yard sale. I offered to get the signs and post them the following morning. I went to 3 different stores looking for the signs I had in mind to buy. What I thought would be easy to find for yard sale signs didn't exist. I was looking for pre made yard sale signs that were brightly colored that had arrows on them. The only signs I could find that had arrows on them were not brightly colored and were very cost-prohibitive, especially for a yard sale. I needed at least 9 signs, which would have cost me well over $50.  It just didn't make sense to pay that much for yard sale signs.
So that night while making signs from brightly colored poster board I bought, I kept telling my husband I needed to make a sign for yard sales that made sense for people to buy for a daily or weekend event.  The very next day I got to work, and started designing directional signage for that very purpose.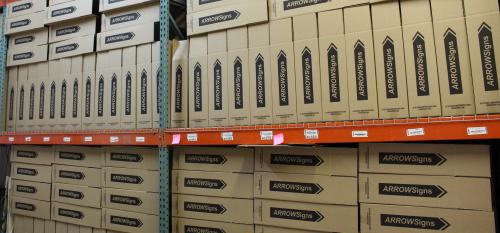 All Arrows Point To Success
LYNNVISION, INC'S. first product was born – ARROWSigns ~ Ready-To-Go Directional Signage.  ARROWSigns is a one of a kind product that is first to market.  They're a 100% US made product.  Plus, they are 100% recyclable and merchandized without wastefully or expensive packaging, making them extremely environmentally friendly.
David and Goliath
Seeing a need to provide a product that was handy and practical, retail giant Walmart was the first to offer ARROWSigns to their customers in late March of 2013.  We started out with 65 stores in Southern California through Walmart's Local Supplier Program.  But after posting strong sales in only three weeks in market, Walmart approached us to supply the remaining 35 stores in the Southern California region.  Now, as part of our National Supplier Agreement with Walmart, we supply more than 2000 Walmarts across the nation.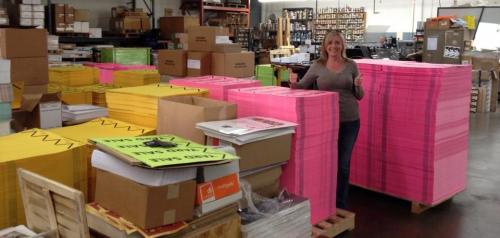 Made in the USA
At LYNNVISION, INC. it is important that, not only is our manufacturing done in the USA, but our material for our products is also made in the USA.  When first searching for a manufacturer to produce ARROWSigns, my manufacturer suggested we get the material from overseas as it would be less expensive than getting material from a mill in the United States.  As a business owner, this was tempting as costs and profit margins are important aspects to a successful business.  However, a higher profit margin is not the most important aspect for me and my company.  Being able to provide jobs for people here in America is far more gratifying at the end of the day.